Almost everyone in the country is now aware of Harman Sidhu, the activist behind the nationwide LiquorBan of 'Thekas' and shops selling liquor on state and national highways.
While the idea behind this is noble, getting people to avoid drinking and driving, it seems that Mr. Sidhu did not think this through. His filed PIL, which is the reason behind the #LiquorBan across the entire country except Sikkim. This move has led to huge losses, amounting to Crores of Rupees, in the hospitality industry, in the first weekend of its implementation itself. Analysts have predicted even bigger losses for State Governments and the Hospitality Sector, financially and also the huge number of employees whose livelihoods will get affected adversely by the Liquor Ban
In wake of the Supreme Court Order, liquor shops are shutting down almost on all national and state highways in the country, but more shockingly and even sadly another area where they're shutting down is within Chandigarh City, i.e. inside the city, like Sector Markets and all. Sadly because yours truly Shah Ji aka Aseem Shah Panchkula hails from Chandigarh.
Effect of Liqour Ban in Chandigarh
As almost all roads of Chandigarh are either state highways or national highways, and as per the ruling, you cannot sell liquor within 500 metre radius of a highway, most of the popular and smaller restaurants, pubs and bars have temporarily shut down in Chandigarh, and possibly face a permanent shutdown as well.
The Chandigarh Liquor Ban affects Hotels, Restaurants, pubs and bars that in the Markets adjoining the roads running through Sector 35 – 43, NH 5, which is a part of the Ludhiana route. Chandigarh's Party Street, the Sector -26 Market, which houses the City's most happening & favored pubs, bars and restaurants is adjacent to Madhya Marg, also a State Highway. All these places sell alcohol have been shut down in one sweeping motion, leaving thousands staring at unemployment.
The weekend after this ruling and subsequent shutting of shops, the staff members of the pubs, etc. in Sector 26 took out candlelight marches on Sunday Night ( 2nd April ) to protest against this ruling. Hotel Owners, Staff from 'The Brew Estate, The Great Bear and just from the entire street in general, were seen holding candles and placards, walking in the street/ parking of Sector 26 and also in Sector 7, 8, 9, 35 and Sector 43. They also lit candles in front of the Swagath Hotel in Sector 26. This SC ruling takes away the jobs of the managers, the bartenders, the waiters and even the bouncers, and many more. And these are not people who can afford to be jobless. Many of the workers in Chandigarh come from neighboring states or cities and are the sole earners of their families.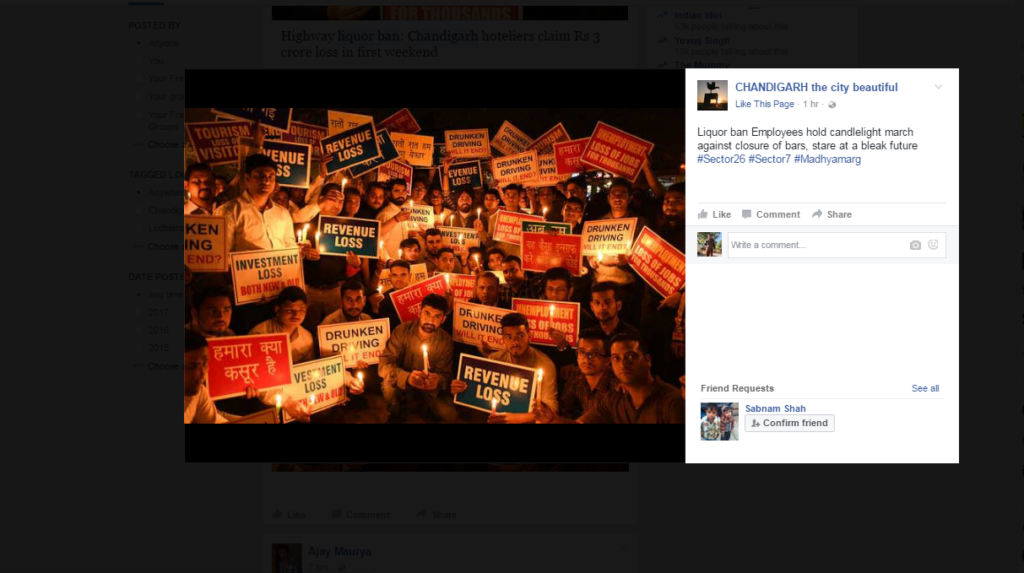 Aseem Shah Chandigarh aka Shah Ji wants to ask Mr. Sidhu that if your cause is to prevent drinking and driving, was there no other way or means to achieve this goal, other than 'banning' things. With the collective knowledge of all the people who are specialists in this area, could we not come up with a solution that works for everyone ?
I mean come on, we are in the 21st century and still in India, to avoid anything, our Government & Society's one solution is to 'ban it'. Grow out of this backward thinking man! There are a hundred ways to achieve any goal, and even for this particular cause, I am sure there is some other way, one that does not lead to banning things!
On an average, one pub/ bar was employing 20-25 people, and maybe more. Now all the major bars and pubs, including the newly opened & pretty cool MOBE aka Ministry of Bar Exchange, have shut shop and are now waiting or protesting peacefully for a new order.
Surprisingly, Mr. Sidhu says he too, 'is feeling the pinch' of having his favorite watering holes shut down, as he too is 'fond of drinking'. Funnily enough, just days before the SC ruling, the Municipal Corporation of Chandigarh, anticipating the loss that the ruling would incur, the authorities de-notified these roads and changed their nomenclature to major district roads, thereby hoping to prevent the shutting down of restaurants and bars. Mr. Sidhu, the same guy who is 'feeling the pinch' CHALLENGED the de-notification in Supreme Court. Hypocritical much Mr. Sidhu?
If you are actually 'fond of drinking' and did not want Chandigarh's much loved bar and pubs to shut down, why the hell would you challenge the one thing that could have prevented all this?


You can read his statements here.
Sure his cause is great and all, but seeing & reading about the consequences of the Liquor Ban, I am much more inclined to support the pubs, bars and their staff rather than Mr. Harman Sidhu as he is not the one of those who isat a risk of losing his livelihood.  Taking away jobs of those who do not even know how to defend or fight for themselves? Absolutely not cool! There has to be a better way.
How does the Liquor Ban affect cities like Chandigarh?
As per news reports, the number of pubs and bars which fall within a 500 metre radius of a highway is close to 90 in Chandigarh, if we consider an average employment of 30 people in each (and we all know that the real number would be much higher) then a minimum of 2700 jobs are on the line. And this is the 'average number'.
The president of the Hoteliers Association in Chandigarh stated that a loss of over 3 Crore Rupees was incurred by the Chandigarh hospitality industry this weekend. Major hotels & bars are cutting down their staff. And the people who work in these establishments come not from rich families, but from simple families from Himachal, Haryana, Nepal & Punjab, whose sole breadwinner might be working in one of these places. Clearly those behind passing this rule are not bothered by these helpless employees losing their jobs, as he only cares about further propagating the agenda of his NGO. If you're that concerned about people dying in road accidents, how can you turn a blind eye to those in this industry, who might die of starvation or some reason because you took away their jobs!
And this is just the story of One Single City! Multiply these numbers by the number of cities in India! How many people, rather families will lose their jobs, their livelihoods as the sole breadwinner of their family loses his or her job?
The number only multiplies in cities like Chandigarh, where roads within the city are also state or national highways.
Aseem Shah Chandigarh waale agrees that drinking and driving should be stopped, but taking away the jobs of people who work hard to feed their families, and definitely cannot go without jobs even for a day as their livelihood depends on that is no way to do this. Simply banning is not the solution. If speed kills, why do cars bikes have speed capacity beyond 100? Why doesn't Mr Sidhu go bother the car manufacturers to make cars with a speed capacity only till 70?! Baaki eho jaye 3600 udhaaran ho jaan ge! Really hope that our judicial systems reconsiders their decision, keeping in mind all the aspects.
For Mr Sidhu "Daru taan naal Jatt de Madiyan Tak Jau Gi"
So Aseem Shah from Panchkula signing off, praying for those people who need our support at this time..