The Supreme Court's order for the nationwide Liquor Ban has been on every person's mind
and mouth, in every city of the country. Social media is full of articles, news and videos supporting
Chandigarh-based NGO Arrive SAFE's President Harman Sidhu's petition against sale
of liquor along the State and National Highways.
I do not want to bore you with info. about how much loss the Liquor Ban has/will cause to our
country in terms of revenue. People are losing jobs and the man behind this #liquorban
considers this as an achievement. One line by Mr. Sidhu that "I too feel the pinch" cannot
heal the wounds of Hotel/Restaurant/Pub owners, Liquor vendors and their employees who've
lost their jobs, all thanks to Mr. Sidhu's mismanaged PIL. The Hospitality industry
has been one of the biggest, high-revenue generating industries in the nation, one that gives jobs to a
lot of people and it is suffering irreparable losses now.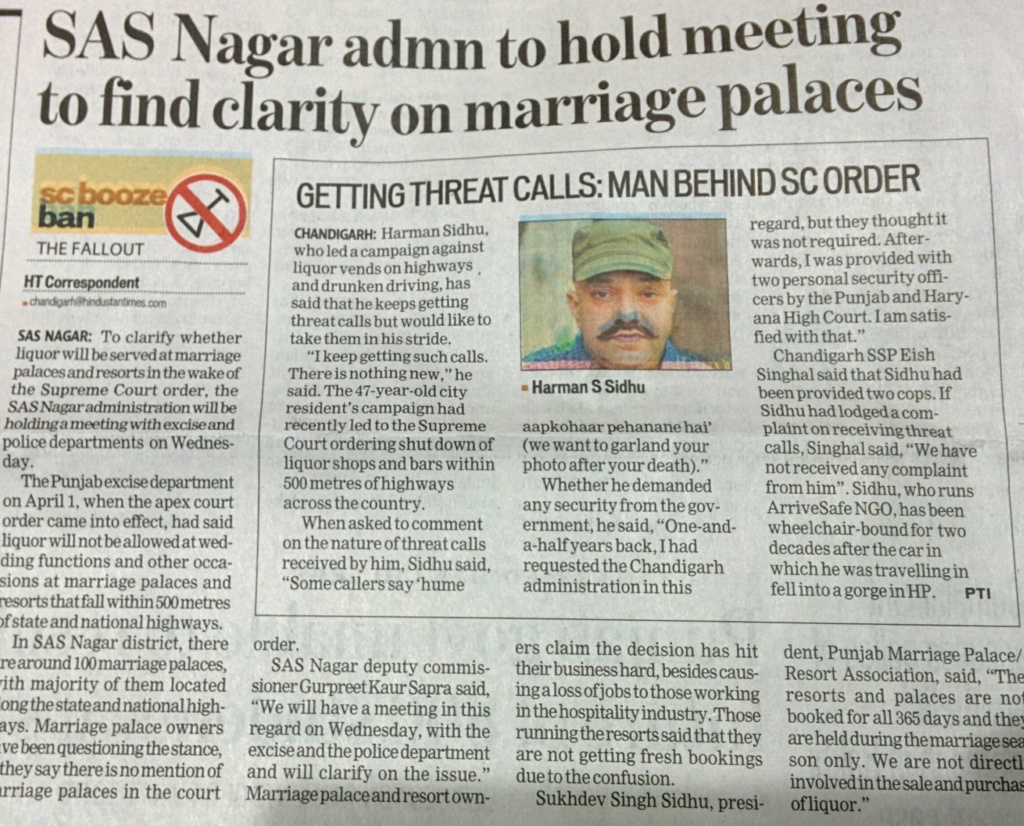 Today, April 5, 2016, I checked the newspaper (Hindustan times) and found that Mr. Harman Sidhu has
mentioned that he is getting threat calls in which people are saying "tere haar paana hai".
Firstly, I don't think this is a threat call. Maybe people want to pay him some respect.
To all the people jo Mr. Harman Sidhu de haar pana chaunde han, Aseem de wallon ek saropa v bhent kitta jaavey".
It was really shocking to know that this guy already has a security cover in which 2
security personals have been deployed to protect him since last 2 years. It seems that it
is just a popularity propaganda as he hasn't registered any complaint on receiving any threat.
It is in fact weird that Mr. Sidhu, a recipient of the prestigious Godfrey Phillips Bravery Award
has a security cover. If he is so brave, then could it be that he just wants the VIP tag on him?
Because this situation is a tad too convenient for him!
Aseem Shah of Panchkula aka Shah Ji  says, "SirJee, Z+ security cover na de daiye?"
Secondly, after the news of Liquor Ban and its effects on revenue, jobs, entertainment started
making rounds on the internet, Mr. Sidhu again came into the news in which he mentioned "I, too,
am feeling the pinch," he says. "I love to drink and I have to go that extra mile to fetch
my stock. I can't accept that a large part of Chandigarh is going dry." He also states,
"Highways are supposed to be outside cities and to be used only for long drives,"
And finishing with, "But thanks to the Chandigarh authorities' goof-up, there are many
highways within Chandigarh. This could well have been a world record of sorts. Now
everybody, including me, will have to suffer."
These are statements that appeared in articles on major news websites like TOI, Hindustan times and several other blogs.
Chandigarh being one of the best cities for everyone where one can live the
exact lifestyle he/ she wants. Being an IT professional, I used to work on weekdays and
enjoy my weekends in the pubs/bars that were in Sec 26 Chandigarh. Some pubs such
as The Brew Estate & MOBE were very new and I feel sad that they had to close.
Almost 80% of the hotels/pubs and bars in Chandigarh have shut down due to Mr.
Sidhu and Mr. Sidhu blames it on Chandigarh Govt. It seems that we are getting a new
Kejriwal in Chandigarh now!
To ensure that the Liquor Ban does not affect the revenue and jobs to such a large
extent, the Chandigarh Authorities denotified the roads declared as State Highways
to Major District Roads just before the Supreme Court order. However, Mr. Sidhu
again challenged the denotification in the Supreme Court. Why would you do that?!!
After all this, ArriveSafe's Mr. Harman Sidhu posts "Poora ragra lag gaya, sare hi
hun lapete gaye ne" depicting his happiness about being the cause of everyone getting
screwed.
To give you a background, I used to think that Mr Harman Sidhu met with an accident
in which the other guy who was at fault was drunk which made him start his fight
against drunk driving. All this proved false when Mr Sidhu mentioned that the
accident which left Mr Sidhu paralyzed and confined to a wheelchair did not involve
alcohol in any way.
I do have sympathy for him and I wholeheartedly support his fight against Drunk Driving but I
feel that he should have followed some alternate way which would have affected the common
people less. One that did not involve crores of financial loss and thousands left unemployed.
To give you more background, Chandigarh based Arrive SAFE's Harman Sidhu is also the
guy behind the closure of Rajasthan's legal poppy vends. In Rajasthan, there were
19,500 licensed poppy husk vendors and the government was earning revenue of Rs 100
crore per annum on it. Poppy Husk/ Bhukki is a poor man's recreational drug which is 100%
natural with almost no side effect. Poppy Husk is a byproduct, i.e. the left-over
plant after the main substance gets extracted from the bud.
As farmers from Punjab, Rajasthan, Haryana work hard in the fields in summers as
well as winters, they need something to keep them working hard in all the extreme
conditions and poppy husk has served that exact purpose for the last 100's of years.
Harman Sidhu filed a Public Interest Litigation (PIL) under his NGO ArriveSAFE in the Rajasthan
High Court last year (2016) after which the court had ordered all poppy husk vends to shut down.
This all led to more adverse effects such as black marketing of poppy husk. As these vendors catered to all the farmers in and around Rajasthan, this move affected them, the poor the most. Mr. Sidhu, again, seemed oblivious to this. The husk available at Rs 30 costed Rs 500 to the poor after the closure.
When poor people could not afford the husk at the inflated prices,
they got hooked to other substitutes such as bupin/ buprenorphine
and Addnok, among others, which are much more harmful. Also, it led to an
increased demand and sale of the dangerous narcotic "heroine" also called '"chitta" in
Punjab.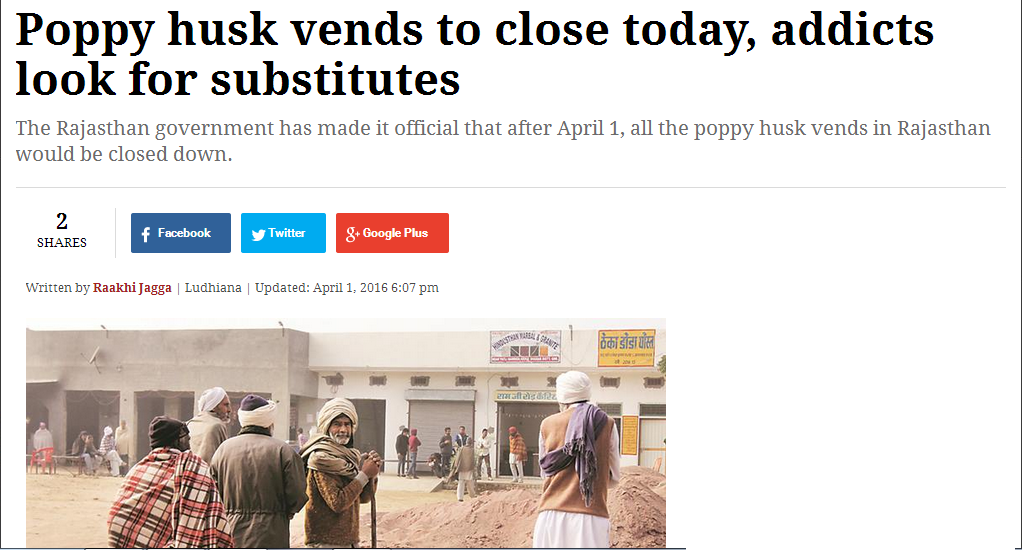 In this case, I couldn't find any relation between arriving home safely and poppy
vends. All of his PIL's have led to a lot more loss than any fayda. Whatever this so
called 'Road Safety Crusader' does, benefits only him and his NGO ArriveSAFE and is
of absolutely no use or help to the common man. At least, none that is visible.
Therefore, I, Aseem Shah of Chandigarh concludes that ArriveSAFE's Mr. Sidhu's war against all this is more of his personal
agenda rather than for the betterment of people. I agree that everyone wants popularity and
some people want to make that their profession, which is completely fine. But do not put the jobs and
livelihood of hundreds of people at risk just for your 15 minutes of fame.
I just want NGOs like Arrive Safe's Mr. Sidhu to research more thoroughly on the ground level and evaluate
what all could be the negative effects of his work before randomly filing any PIL just
because one has the resources to do so. Sometimes, the reality is way more different than the
bookish info. If you really wanna help the country grow, then first and foremost, research, go to the
places which haven't developed, figure out their on ground issues and solve them.
Hope, Mr Sidhu receives my suggestions.
Looking forward to see Mr Sidhu as the next MP/ MLA. Actually, I don't care man!
Note: This just mah personal opinion. Don't like it? Ignore!