Welcome to Aseem's Blog aka Shah Ji's Blog, where I share everything I have discovered about Chandigarh, Panchkula and nearby places in my many years of living in this city.
In all my years of staying in Panchkula, there is one question that will always come up. More often than not, it will be from someone who is not a resident of Chandigarh, or someone who has recently shifted here due to work from a Metro city like Bangalore or Delhi. The person might be different but the question is always the same; "what to do in Chandigarh", usually followed by "Chandigarh is boring"!
Oh the horror! Ain't that true, my fellow Chandigarhians!
To this, I always answer, that in my decades of living here, I have never run out of things to do, places to go, sure, but never things to do! To all those who say Chandigarh is boring, I say, either you yourself are a party pooper or you have not explored the city beautiful to its maximum potential my friend!
Whether you like to just chill in a cute little cafe with your besties, or you want to shop till ya drop, or you want a night out on the town, Chandigarh will have something for you.
So for all those who have the question of what to do in Chandigarh, and especially what to do in Chandigarh when you are bored, read on to get your answers! Behold a list of things to do in and around Chandigarh, on weekends and generally!
1. EXPLORE THE SHIVALIK HILLS MAN!
Beginning with the best thing about Chandigarh 🙂
Chandigarh is a city nestled just at the foot of Shivalik Hills, means if you stand at a place tall enough in various areas of Panchkula, you can see the hills and the lights of our favorite weekend retreat, Kasauli. If you are bored on a weekend in Chandigarh, just pick up your car and your favorite friends, and head uphills. In as little as a fifteen minute drive from MDC in Panchkula, you can reach the hills of Morni, and enjoy a picturesque drive. Morni Hills is a destination that is untouched, so you can enjoy all the flora and fauna in all its pristine glory. There are two lakes in this little hamlet, you can even enjoy boating in Lake Tikkar Taal. There are a few government and private resort atop Morni hills, so you can even make it an overnight trip, come back by Sunday evening to rest and you're energized, fresh and ready for Monday!
If one side of Chandigarh has Morni Hills, then the other side has Kasauli!
A quaint little town, surrounded by some of the best boarding schools of India, and an Army Base, Dagshai, which also doubles as a nice hill-side destination. On weekends, it is a nice escape from the city, and there are many stops, beautiful ones, From Dagshai to Dharampur, every stop has amazing views of the hills. For those looking for a shorter trip, head to the famed & favorite, Timer Trail Deck, where you can have a nice meal in the hills, surrounded by nature on all sides!
Kasauli, Dagshai, Morni Hills etc. are places where you can even make a one-day trip. As you increased the days of your trip or vacation, you can head even further up the hills to Solan, Shimla, Rohru and so on. If you're up for a long-ish drive, then you can go to Manali, Spiti Valley, Triund and many more such awesome hill stations!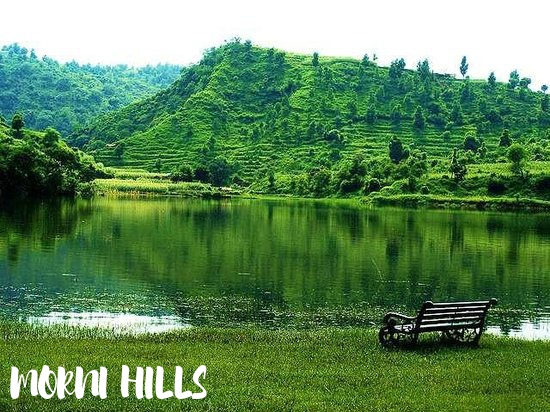 2. SHOPPING AND TIMEPASS
The heart of Chandigarh lies in Sector 17. Situated literally in the center of Chandigarh, Sector-17 has all the major Municipal Offices and Banks on one side, and an insane number of shops and brands on the other. There was a time when Sector-17 was the ultimate Shopping Destination. From ethnic, local brands to big international brands, everything that was a rage could be found in Sector 17.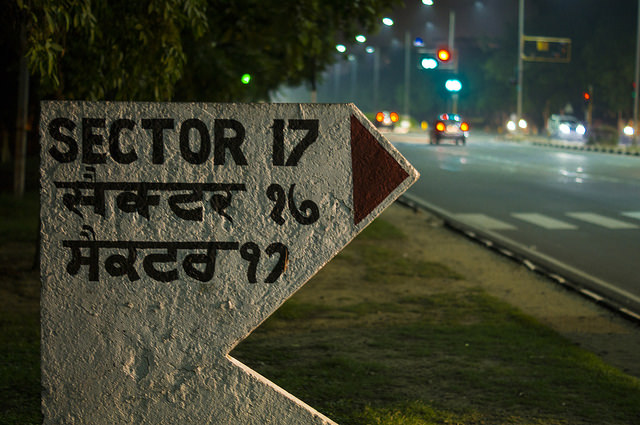 Although the recent mall culture has reduced the famous 'staaran sector' to just a sector, there were times when evenings in the Sector-17 market would be full of 'raunak'! There used to be a fountain show, which is still there, only has far less number of viewers!
Saturday Evenings used to see some artist's performance, and the market used to be filled with people, from students enjoying an evening with friends, to couples taking a stroll, to families roaming around and enjoying the sights of the shops and munching on the street snacks that are sold almost on every corner of Sector-17. In fact, people from nearby villages who used to come to Chandigarh for work, or even for fun, always had a mandatory Sector-17 visit!
While most of the new generations prefer visiting the big malls like Elante Mall in Chandigarh, or DT Mall in Panchkula, or North Country Mall in Kharar, Mohali, there is still something about Sector-17 that never fails to remind of the charms of those good old golden days!
3. BEAT THE HEAT, ENTER A MALL
If you prefer roaming around in AC Malls, where you can watch a movie, shop and eat at one single place, then again, Chandigarh has lot to offer. Currently the favorite is Elante Mall, in Industrial Area Chandigarh, which is huge and houses almost close to 200 shops ranging from clothes to shoes to home décor to gadgets and just about anything you can think of. The ground floor has courtyard cafes, which make for a nice place to eat, especially in winters, where you can sip your coffee in the Sun.
Punjab's biggest mall, the North Country Mall in Kharar, Mohali, is about 20 minutes away from the center, i.e. Sector 17. Then there is DT Mall in Panchkula, which has Factory Outlets of major brands like Jack n Jones, United Colors of Benetton, Vero Moda and so on.
All these malls have movie theaters in them, so there is no dearth of options while you look for movie shows!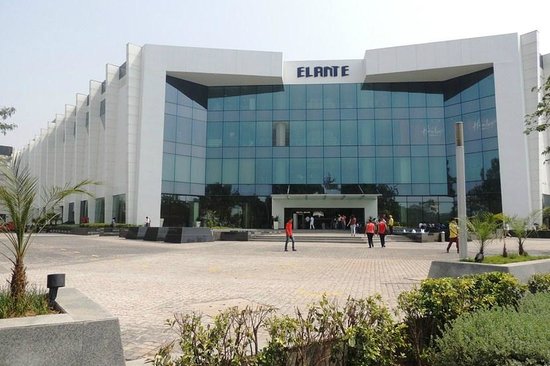 4. NIGHTLIFE & DHOOM DHADAAKA
For the nightlife lovers and those looking for fun, party culture, Chandigarh has a whole sector dedicated to pubs and bars, all of different types, dedicated to the party animals! I am speaking about Sector 26 or 'Chhabbee', as we like to call it. The entire market lane of Sector 26, both front and back, has pubs and bars of all kinds. From the ones that have a live band play every day, to those whose DJ's are known for playing the best songs for dancing your heart out. There is MOBE, there is Peddlers, Satva, F Bar, Tamzaara and so many more. PCRs stroll the area every night, so it is a pretty safe area for late night parties!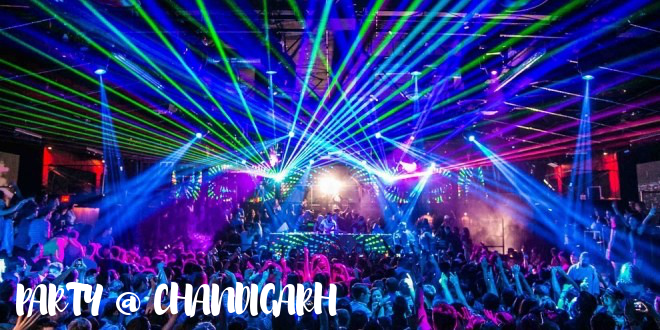 5. LOVE & ENJOY NATURE
Chandigarh is not only known as'City Beautiful' but has also been touted as the Greenest city of India. Every block in every sector of Chandigarh, and even Panchkula and Mohali, has gardens or parks, where children can play in the evenings. Almost every park will have a swing set too. They also have walkways for the walkers and joggers. Then there is Rose Garden in Sector 10, which blooms with almost every kind of Rose during season time, and we even have a Rose Festival, which is a fun-filled affair! The Terraced Garden in Sector 33 has a Chrysanthemum Show every year, where people come and display the Chrysanthemums of their own in exquisite displays. The Fragnance Garden in Sector 36 has a large variety of flowers that are a delight to look at.
There is no dearth of greenery in Chandigarh, Panchkula or Mohali, which just adds to the already lovely Charm of our City Beautiful!
6. SUKHNA LAKE
Probably the most famous and most visited tourist destination of Chandigarh, apart from Rock Garden is the beloved Sukhna lake, aptly located in Sector 1 of Chandigarh. Created by Le Corbusier and the then Chief Engineer P L Verma, the lake is a perfect amalgamation of Nature & modernization. A promenade/ walkway of sorts runs parallel to the entire length of the lake, and is almost always filled with people of all walks and ages. You will find children playing, roller skating, health-enthusiasts taking their daily walks/ runs on the joggers lane that was recently constructed, families enjoying the mystical beauty of the lake along with its flora and fauna. Artists love to capture the iridescent beauty of Sukhna lake through photographs or paintings. Dawn & Dusk are the best times to visit Sukhna lake & enjoy its magnificent beauty in all its glory.
Apart from walking along the length of the lake, there are a lot of other activities that one can partake in while visiting Sukhna lake.
The most famous and enjoyed are the boat rides & getting yourself sketched by the local sketch artists sitting there. The timings for the boat rides in Sukhna Lake are 9:30 AM to 6 PM and the costs are INR 50 for 2 people and INR 100 for four people. However, boat rides are not available all year round. The opening months for boat rides in Sukhna lake are January to April; August to September; September to December.
When you enter the lake from the lake Club side, there are a number of gift shops and one food court/ corner that sells a variety of snacks, from South Indian food to Softy Ice Creams. There is even a rooftop restaurant, but seats are limited there. The one thing that you must try are the 'Bhel Cones' there which are sold by vendors.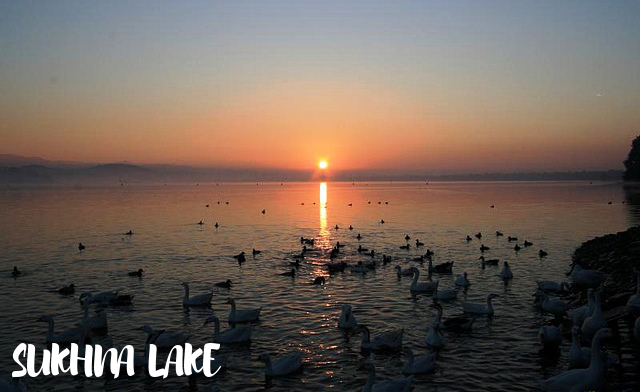 7. ROCK GARDEN
The shaan and baan of Chandigarh, Rock garden is our badge of pride. Created by the highly creative Nek Chand, Rock garden is truly one-of-a-kind, with almost nothing like it present in the country. Beautiful sculptures scattered across 3 sections of the garden are something that must be seen at least once in your life. Why, you may ask. because each and every sculpture has been made entirely out of waste materials, scraps and the likes. Yep, that's true, Mr. Nek Chande collected metal scraps, broken plates, glasses and such waste and built a truly amazing creation of them!
8. KIDDIE FUN-SHUN
To give kids a total fun-day out where they can enjoy tons of rides and a water park, complete with slides and all, take them to Fun City, a destination that has been a favorite among schools for day trips since time immemorial
For the adults looking for some kiddie fun, there are a couple of places which have, wait for it, PAINTBALL!! near Mullanpur, there are a few places that have proper paintball ranges, where large groups can go and have some great fun. Most of these places have also built sitting areas where people can sit and enjoy some snacks and hot tea after a good rough game of paintball!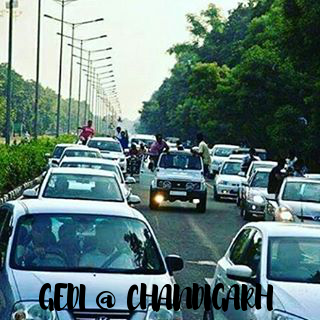 9. GEDI SHEDI
Saving the best for the last, don't forget to hit the Gehri Route when in Chandigarh. It is not a special road or something, just the road connecting the Sectors that are favorites of the youngsters. Beginning in Sector 8, heading through Sectors 9 & 10 through Sector -11 and back the same road is what would make one Gehri! These sectors are littered with Cafes and eateries and the evenings see the entire teen and young generation of Chandigarh scattered around the Gehri route in their swanky cars with music blaring out. Girls and boys alike will be found on the Gehri route, enjoying their time! On the side of Gehri Route is Citco in Sector 10, which is the main attraction of Gehri Route and no Gehri is complete without a trip to Citco's Mini Eiffel Tower. Many Cars can be seen parked here, where both the ladies and the guys enjoy each others' company!
Well, there you have it, some of the things that Aseem Shah aka Shah Ji loves to do in Chandigarh with his friends! Our weekends begin with a Gehri and end in Chabbee, where we celebrate friendships, life and this beautiful city!
New to Chandigarh? See how Chandigarh changes Preeto to Parry here.
Love
Aseem aka Shah Ji
Note: All the images are sourced from the internet. No copyright infringement intended.