From the last 10 days, there is one sad thing making headlines in almost every Chandigarh newspaper. It is not Bhagwant Mann's News or Badal's election update but sadly it is about a high-profile and really brutal murder case. Even if it wasn't high profile, it is still terribly sad that a 28 year old young man was crushed under the wheels of a luxury car.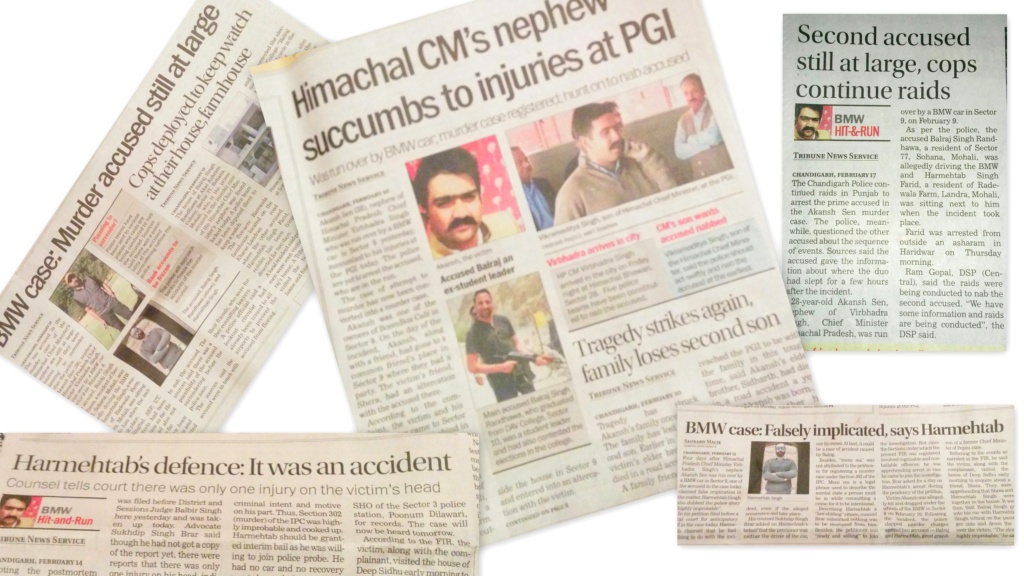 I, Aseem Shah, aka Shah Ji doesn't know either the accused or the victim but I can truly relate to it as it could happen to anyone. It could be me, you or anyone among the thousands of boys who can be a part of such scuffle. We all drink, we all party and sometimes we do get into fights, which are usually just small issues which then turn into huge fights.  Sometimes things get escalated to an out of control level, which could be what happened in this case. Even though what happened is really sad, it might just have been a really bad day (luck-wise) for both the sides. More thoughts on this shortly…
Let me start with telling you more about why it is Chandigarh's high profile murder case.
The victim, 'Akansh Sen' was a young 28 year old boy from Himachal Pradesh, in fact nephew of the Chief Minister of Himachal Pradesh, Sh. Virbhadra Singh's wife. He was a co-owner of the Boom-Box Cafe in Sector 9 Chandigarh, which had opened only a few months ago, according to reports.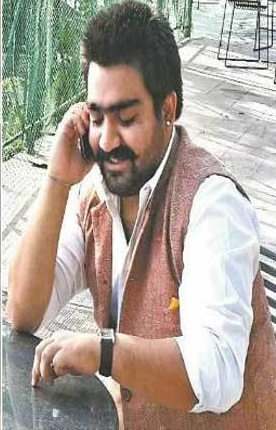 The heartbreaking part here is that Akansh's family had earlier lost a son elder to Akansh, who died before Akansh was born. So, the family has lost their second son.
May God give them the strength to face these unfortunate times and endure this hardship.
Now, coming to the accused, they are our typical 'Kaka ji' or Punjabi Jatt Boys. That's we call most of our Punjabi friends, who are luckily rich as their families own huge agricultural land.  But that doesn't mean that those who own ancestral land and have money are bad guys, rather they are lucky.
So, the main accused and the one allegedly behind the wheel here is Balraj Singh Randhawa (30), a law student from DAV Chandigarh, who lost this father years ago and was then raised by his maternal grandfather ( Nana Ji ) Ajmer Singh. He has a mother and a sister who stay in Canada. It is really tragic for the mother who has to see and bear all of this on her own in her old age.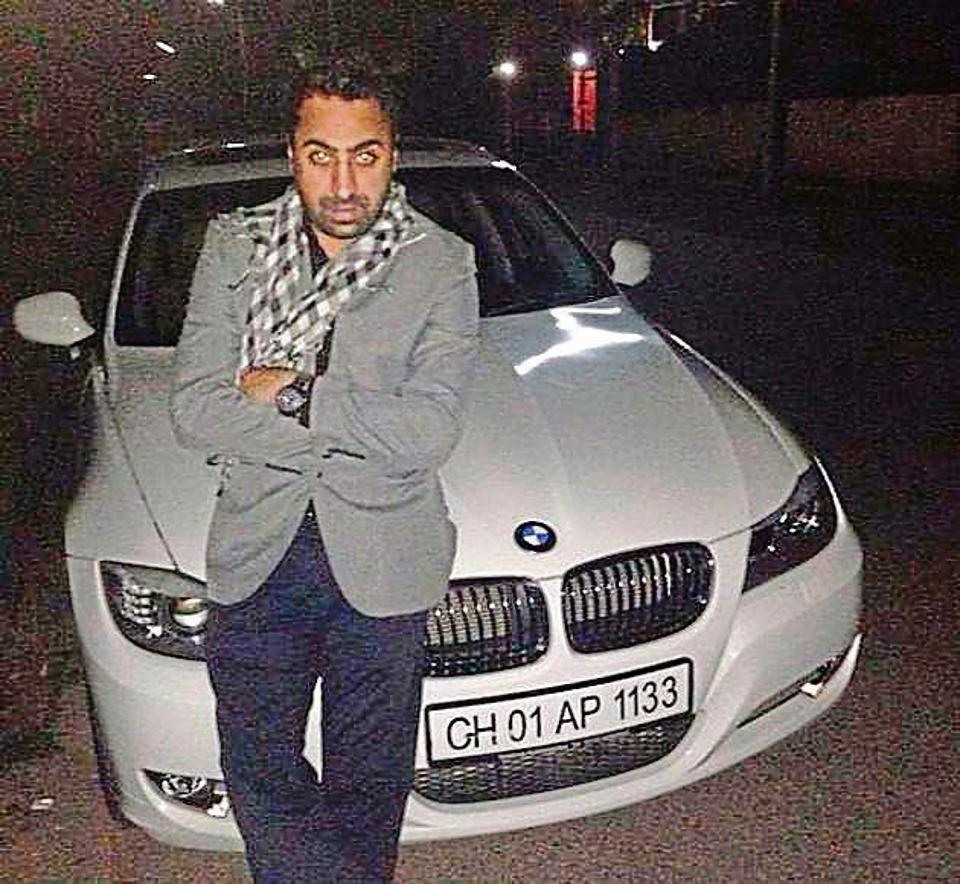 The co-accused is Harmehtab Singh Rarewal (32) aka Farid, great grandson of former CM of PEPSU Sh. Gyan Singh Rarewal. He is a filthy rich guy who used to reside alone at a huge 5-acre farm house on the Landran-Ludhiana Highway. Farid's father died almost a decade ago. Again, it is really unfortunate that his mother too has to see and live through all of this in her old age.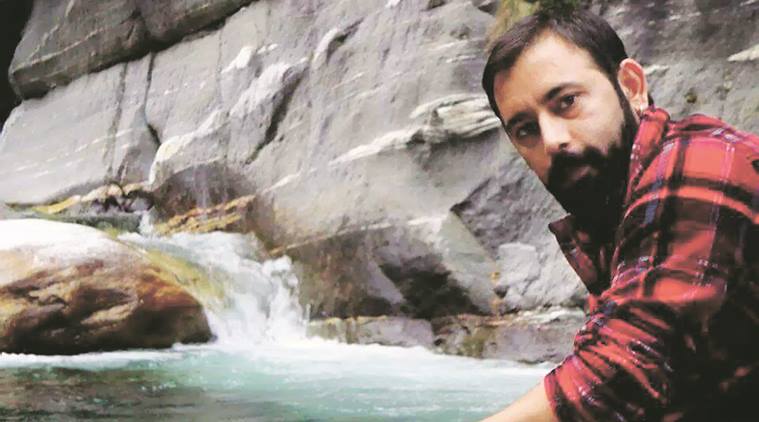 As per newspaper reports, Harmehtab aka Farid lived a lavish life and had adopted all the possible methods in his farmhouse to avoid any intrusion. They call it a high security farmhouse which built a little into seclusion and has narrow make shift bridge to reach the property, further which is protected by an iron chain barricade manned by a guard and 3 dogs.
Now, if you're from Punjab or if you have Punjabi friends who have their 'zameenein' and do not need to work as much to earn money, you will also know that this kind of a lifestyle is pretty common and normal in Punjab. It is just the reporters who have presented it as some sort of lair of a mobster or something like that.Guys like Farid are plenty in number and they have the money and can afford to live however they want. This does not mean that he is a bad guy or a criminal. Not defending the guy and if Farid is in the wrong then he should be punished for his actions as per the law.
Here, the media should be careful in their journalism and not just sensationalize something in this way. Generalization is not liked by anyone, and if we really start calling all those who stay in farmhouses criminals, then many many people from Chandigarh and nearby would be in that list. In fact, there are a few of my close friends also who stay in farmhouses on the outskirts of Chandigarh, and some of them come from the most respectable families. Not all Punjabi Jatts who are lucky enough to have agricultural land and are rich enough to afford lavish lifestyles should be branded as 'gundas'. Most of them are actually nice people who live a respectable, peaceful and a king size life. Just saying, we should not judge anyone based on the luxurious lifestyle he lives.
Coming to the point that I left before. ..
This entire situation is so terribly painful and sad, especially for the family who have lost their son and also for the families whose son's are the accused here. While we can berate the wrongdoer as much as we want, it is really disheartening to see their families suffer because of the stupidity of their children. Whenever guys like you and me get into a fight, nobody wants to kill anyone, that is definitely never the intention. It is usually a small brawl fueled by something or the other and in that fit of rage, if luck is not on your side, then one may hurt the other person fatally, without even realizing it sometimes. That is the saddest part. And being convicted in a murder case, i.e. getting life imprisonment, is quite horrible and usually means that the life of the one convicted is over. Staying in Jail for the rest of your life, giving up all the good things you had, all because of one stupid fight, is just the worst thing ever, and probably as horrific as dying maybe.
But again, I want to stress here that no one, no one ever starts a fight with the intention of killing. It is almost always an accident. Having said that, if the accused really did have such a terrible intention and acted knowingly on it, then their punishment should be very strict and severe, so that no one ever does something like this.
The Entire Story Leading up to the Fateful Night:
As per newspaper reports, this whole gang comprising of Akansh, his cousins/ friends, Balraj, Farid and others were out partying in the Boom-Box Cafe on the evening of February 9. The group later proceeded to gather at a common friend Deep Sidhu's house in Sector 9 for an after after-party. There, Shera (a friend of Akansh's) and Farid (one of the accused) who have already had tiffs before and were not in good terms, got into another altercation at the house. Here, the reports mentioned that in the early morning of Feb 10, 2017, Akansh had left the party to sleep at a friend's place in Sec 18, Chandigarh but he again came back to pick his friend Shera who he thought would not be safe with Balraj and Farid around. In Punjabi, we use a phrase "likhi nu kaun taal sakda" and that's how Akansh came back to the scene.
So the news reports say that Balraj Singh Randhawa was behind the wheels and Harmehtab aka Farid was at co-drivers seat instigating Balraj to crush Akansh under the car. Unfortunately, till now there has been neither an eye witness to this tragedy nor any CCTV camera recording from the nearly installed cameras. As per the neighbours, they didn't hear any noise. Also, one neighbour had put his CCTV off assuming it to be the heater's switch.
It is quite common for people here to keep themselves aside when there is an incident involving high profile influential people. There is always a fear of getting harassed by the police when the cops are under extreme pressure to produce evidence and solve the case.
I do not support or appreciate this. People should come forward to provide as much as information to ensure that the justice is given wisely and swiftly.
Chandigarh police has been able to nab just one of the accused i.e., Farid whose anticipatory bail got rejected in the last week. He had run to Bangalore, then Gurgaon and was at last caught from Haridwar.
Very soon, the police will be able to nab Balraj Singh Randhawa and his BMW car involved in the case.
The Back-Story: 
Now, about the old rivalry of Shera and Farid, as I had mentioned, these two have had some altercations in the past. Today's news brought forward an information regarding a video, which was allegedly made by Farid a few months ago at his Landran Farmhouse. As per today's Hindustan Times, it has come to light that a few days before the farmouse incident,  Shera and Farid, who were friends at that time, were with a group of friends at a property that Shera owned in Dagshai, near Kasauli. There these two had a minor argument which got settled there only. But the two again had a petty fight in Manali. So Farid had then called Shera to his farmouse to avenge this, where Farid and his friends apparently beat Shera up and asked him to undress and made a semi-nude video of his during the same.
So you see, this rivalry was probably the key cause of the fight that started that night and sadly led to the death of a young man.
Now, coming to another side of the story.
As per Farid's statement, Akansh came attacking Balraj and Farid with a baseball bat & when they tried running away in the car, he intentionally came forward in front of the car to make them stop. If Farid's statement is really true, then it might be possible that this incident is a result of instant self defense reflexes.
Imagine, you going with your family and someone holding a weapon tries to stop you by coming in front of the car. What will you do? Will you really stop just to ensure that you do not hurt the person whom you believe will hurt you.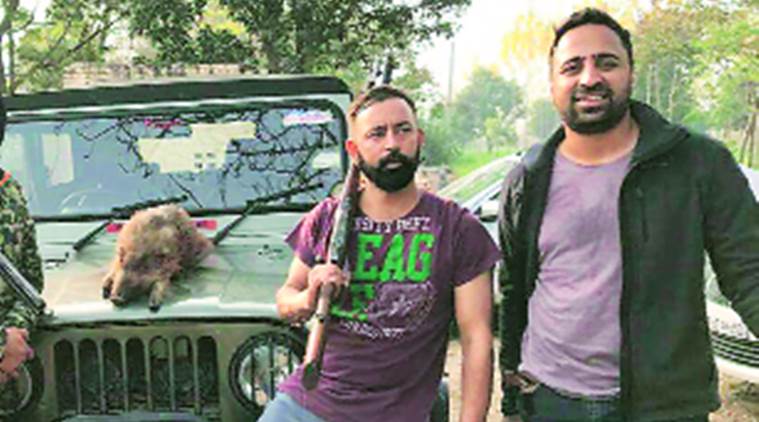 Since we do not have a lot of evidence and have only heard tid bits of the entire story, that too from the media, I really can't support or berate anyone here.
I can only request our Judicial system to look at the case from all the viewpoints and then reach a conclusion.  If you find the guys guilty, then let them rot in the jail and serve their sentence but if it really, truly, was an accident, then please just take into consideration the families of the accused as well, as they did not do anything wrong but their lives are at stake here too..
It is a really awful incident which should not have happened and seeing the news every day just makes me sad, especially for the family of the victim, who lost a son because of such a stupid thing.
I pray to God to give strength to his family to go through this terrible time and also to the other two families to survive this ordeal.
Sources for Information and Images: Hindustan Times, Indian Express, Hitmites and other internet outlets covering the news.
Update: 21 Feb, 2017
Based on the recent news, there has been an update regarding the enmity between Shera, Akansh Sen's friend and Harmehtab Singh Rarewal alias Farid which could be the reason behind the death of Himachal Pradesh CM's nephew Akansh Sen. It has come to light that in the past Shera, Farid and 3 Girls had gone for a trip to Manali. There, none of the girls were willing to go with Shera and preferred staying with Farid instead. A scorned Shera went away at first but later returned and thrashed Farid quite badly, so badly that Farid had to be hospitalized in Manali.
To return the favor, after few months Farid called Shera to his Landran Farmhouse, where he had a 'party' ready for Shera. In this party, Shera was beaten up by Farid and his aides and a partially nude video of him was allegedly recorded.
Also, in other news, the BMW car that is the murder weapon in this case, has been recovered from Mandi Gobindgarh.
…. more updates as they happen