Yeh kahani ek satya ghatna par aadharit hai, iske sabhi paatr kalpnik nahi hai but fattu zarur hain 😉
I want to  start by making a confession. Rabb di meher nal, Shah Ji  (urf Aseem Shah from Panchkula) is not scared easily and there are very few things that I fear. But when it comes to supernatural elements, aka the bhoots, prets, chudail, saleda, aatmas and all, I might be the biggest scaredy cat there is, i.e. the 'fattuest' of them all.
Note: Arey Bhai, Fattu hain but Fuddu nahi 😛
Strangely, I enjoy listening to Bhoot Pret wali Ghost Stories and if the story is narrated as a real one by someone I know, then I will enjoy it even more, digging deeper into the details. I tend to start imagining the situation and the bhoot's appearance. This is usually fun during the day but the fear part comes during the same night. 😛
Like if I have heard a ghost story or something like that, I won't switch off the lights of my room at night, I will even skip going to the loo in the middle of the night, fearing that if I go, a saleda or bhoot might grab me. I avoid looking at the clock also, k 'kahin ghadi ki sui 3:00 AM na baja ri ho'. Even during sleepovers, if we are 3 people sleeping on a same bed, you will find me in the middle of the two as I believe that if a Ghost comes, I will be the second one to get bothered (get your mind out of the gutters you guyss!)
In my Punjabi language, this risky business is called 'b**d nal blade chakkna' which means picking blade with your ass.
Now you know about Shah ji's love-hate relationship with all things horror. I love the stories but I am really scared of the things that make these stories!
To add some context to why fearless Shah Ji aka Aseem Shah is so scared of the supernatural, let me tell you a secret.
When I was a young boy, me and my family experienced something paranormal. More about this in another post. This is why I have a strong belief that the paranormal exists and we must keep a safe, respectful distance from all this.
Anyhoooo, today is not for scaring you guys. Today is to tell you what Aseem Shah's love for horror movies and stories usually leads to.
The year is 2013, and the movie is The Conjuring. Personally, I think this is the best horror flick of all time. It is also based on true incidents, which makes it all the more scary. And I have watched a LOT of Horror movies, so I have enough data to compare!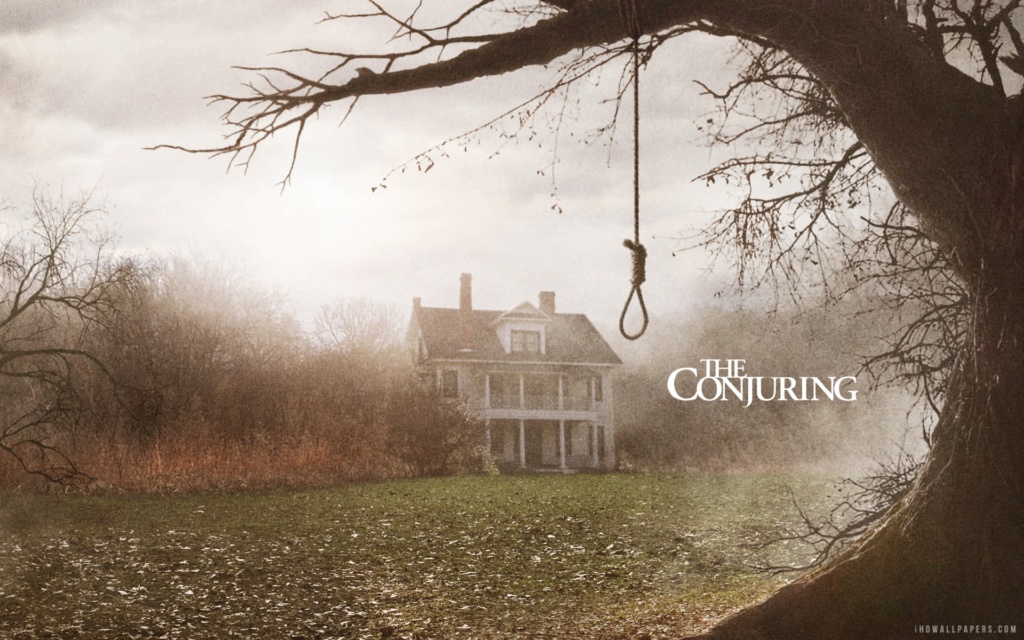 I liked 'The Conjuring' so much that I watched it three times in one week only! Firstly, I watched it in PVR Cinemas in Elante Mall in Chandigarh, then on the next day in DT Cinemas at Chandigarh and the last time at Fame Cinemas in Panchkula. In fact, I never liked Fame Cinemas Panchkula but still went to watch the movie there as it was the only place in Chandigarh, Panchkula that The Conjuring was still showing. If you haven't seen or heard about the movie (Really?!!), check out the trailer of The Conjuring, which is scary enough as it is!
My love for the movie did not end here. I got a HD print of the movie from my bro, Micky, who loves this movie just as much as I do. Each time, we planned a sleepover anywhere, watching this movie was always on the agenda. So the objective was "Khud to Daro, Doosron ko bhi darao"! 😛
In fact, on last count, I have shown this movie to about 10 people at my house only. This does not include other places, like Micky's place, where we have watched this movie with our friends. The list of people I have scared includes a lot of people. Let me think, there's Kaka, Dev, who saw it at my place, got really freaked out. Then there's Moto, Trish, Navi, Channi, Aashi and Gagan, who saw this movie as a part of the special attraction of a pretty cool house party in Panchkula! Then Ameeta, Bholu and Riya, who also were scared pretty much. In fact, all 4 of us saw this in DT Cinemas in Panchkula, so these people got the full sound effects and all, scaring them all the more.
The amount of times I have watched this movie is hilarious really! In fact, I now know each scene, dialogue and even the background music by heart, but I still cannot watch this movie alone beyond the first 40 minutes, at least not in one go!
So now you know a really big secret of my life, i.e. Shah Ji is a fattu when it comes to horror flicks! Once again, I must say, hum fattu hain but fuddu hain 😉
In fact, there is another story attached to this movie! In the same year i.e., 2013, I went to Mumbai from Panchkula to meet my sister Shruti, her husband Pramod and my naughty niece Tiara. At that time, Tiara was a pampered 3 year old, with her toys scattered all over the apartment. My sister's family had only recently moved to this place and it was my first visit to that house. Telling you guys this to add a little bit more context to the story that follows.
On my second night at Mumbai, I woke up in the middle of the night for a piss. Since it was a new place for me, and things were still a bit strange for me. On top of that waking up in the middle of the night also leaves you disoriented. The washroom was on the other side of the guest room, so I had to cross the lobby to go to the bathroom. It was pitch black everywhere as I did not switch on the lights, so as to not disturb my little niece. So I walk towards the lobby with 'dabbey pao', when suddenly I hear a 'cheeeeeeeeeen' noise, like a slow whistle. It was Tiara's choon-choon wala toy under my foot. I could hear my heart hammering inside and hell I was so damn scared that I could have pissed my pants right then and there. Taking 'Rabb da Naam' and not looking anywhere, I literally ran to the washroom and back.
The next night, at around 2:30 AM I am waken up in the dead of the night with a light sound, that is coming from the drawing room. It was a chiming sound, like a children's toy. Now if you've seen The Conjuring, you know that how scary musical toys can be! So I did not get out of my bed, and stayed put, thinking k kaheen koi bacha toy k saath khelta hua na dikh j! Deviyon and Sajjanon, is time tak Shah Ji Chandigarh Waale ki fatt chuki thi, buri tarah!
The next morning, I asked my sister and she dismissed me by saying "ye tiara k toys chinese hain, apne aap chal jaatey hain". So I relaxed a bit and thought k Shah Ji, inna ni sochi da! A few nights passed and nothing happened so I also threw those thoughts out of my brain.
The one night, the 6th one I think, I again got up in the middle of the night to answer the call of nature. The same route of getting out of the room, crossing the lobby had to be followed to reach the washroom. The moment I stepped out of the room, I saw a doll sitting on a dining chair, and it seemed as if it was staring right at me. Fuck My Life, it was damn scary. This doll was not a cute one. Not.At.All. At that time, it seemed that someone was pulling the doll's hair from above, as they were pointing right upward.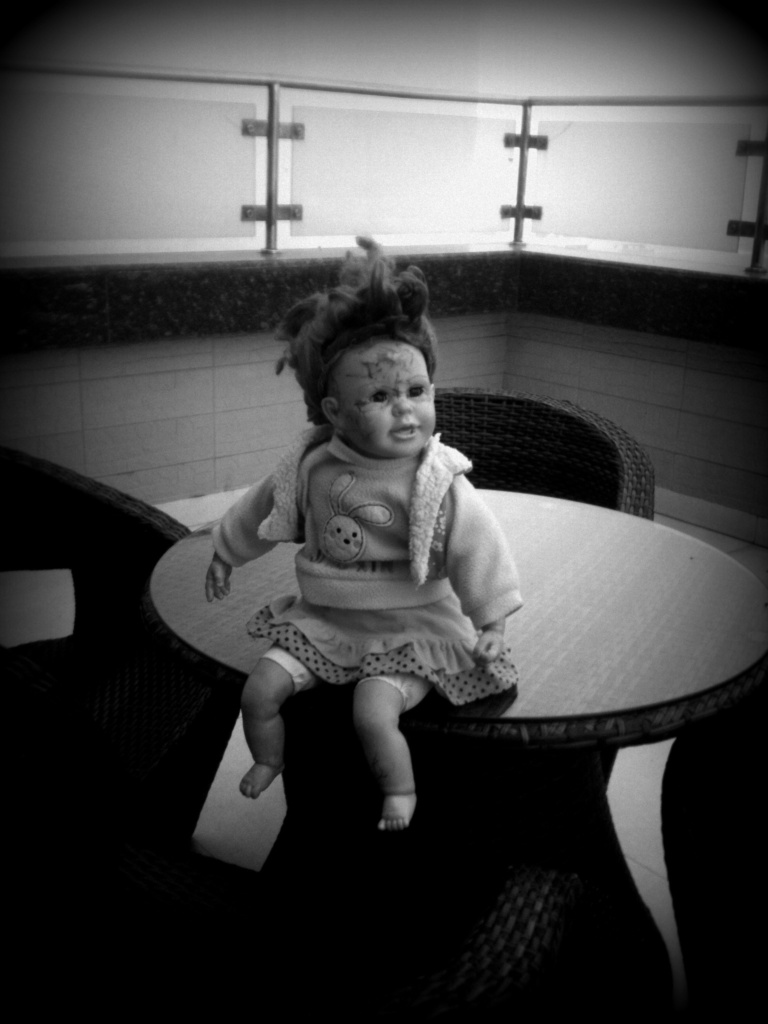 Bai, siddi gall, as they say in punjabi, it was a 'tatti kadd' situation. That doll reminded me of the doll in Conjuring, Annabelle, and it scared me right back into my room, where I spent the night, taking rabb ka naam and praying for my safety! You can see that doll in The Conjuring Movie poster below.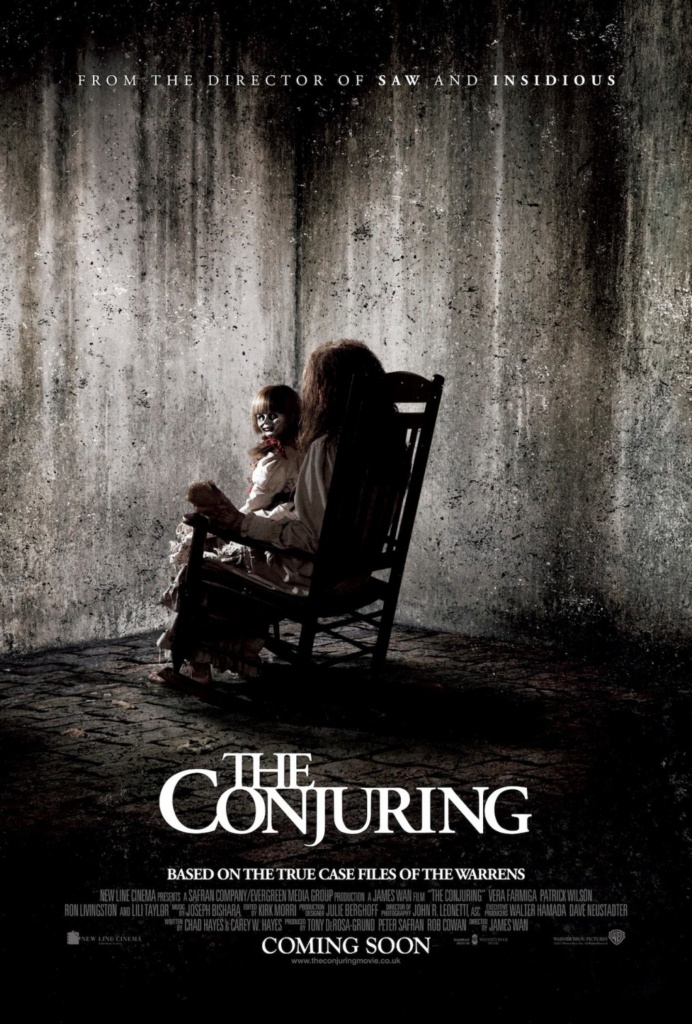 After a rough night, I woke up, and imagine my horror when I saw my niece playing with that same doll. Yes, that very doll that scared the bejeezus out of me.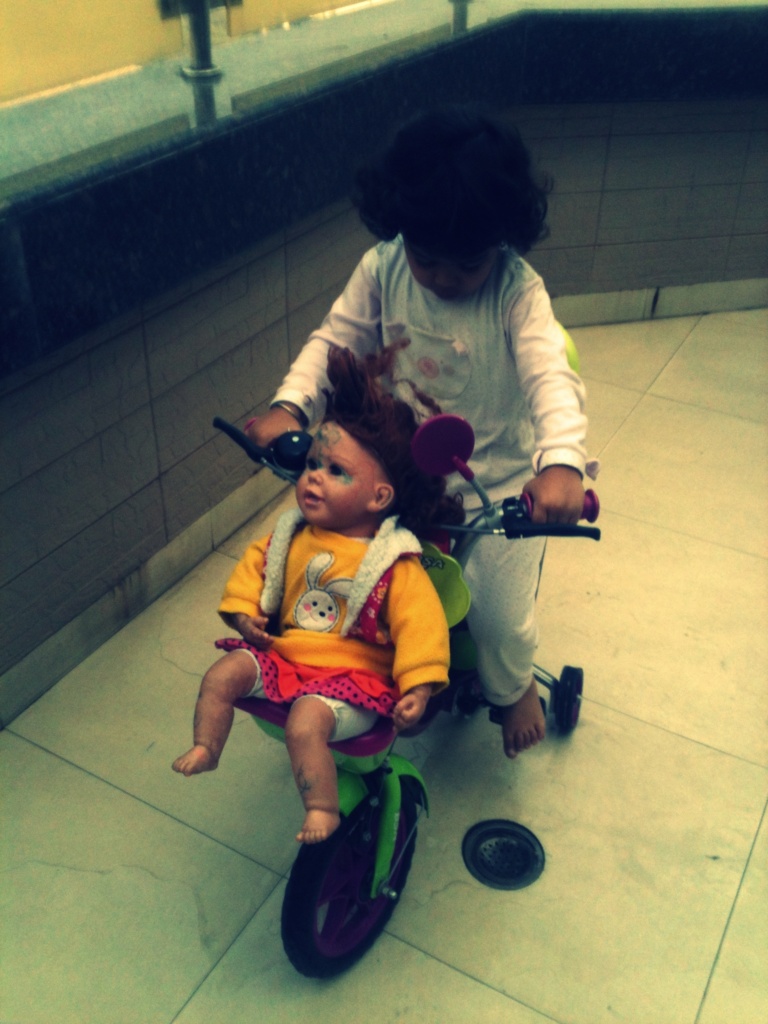 So, I asked my sister about the doll and found out that this was apparently the same doll that I gifted Tiara on her first birthday. And I'm like no way, as when I had bought this doll, it was a cute little doll. Why would I gift her a scary doll man! Apparently Tiara did some makeup on the doll, to make her look 'pretty', but man she just made it frikkin scary, like a voodoo doll or something.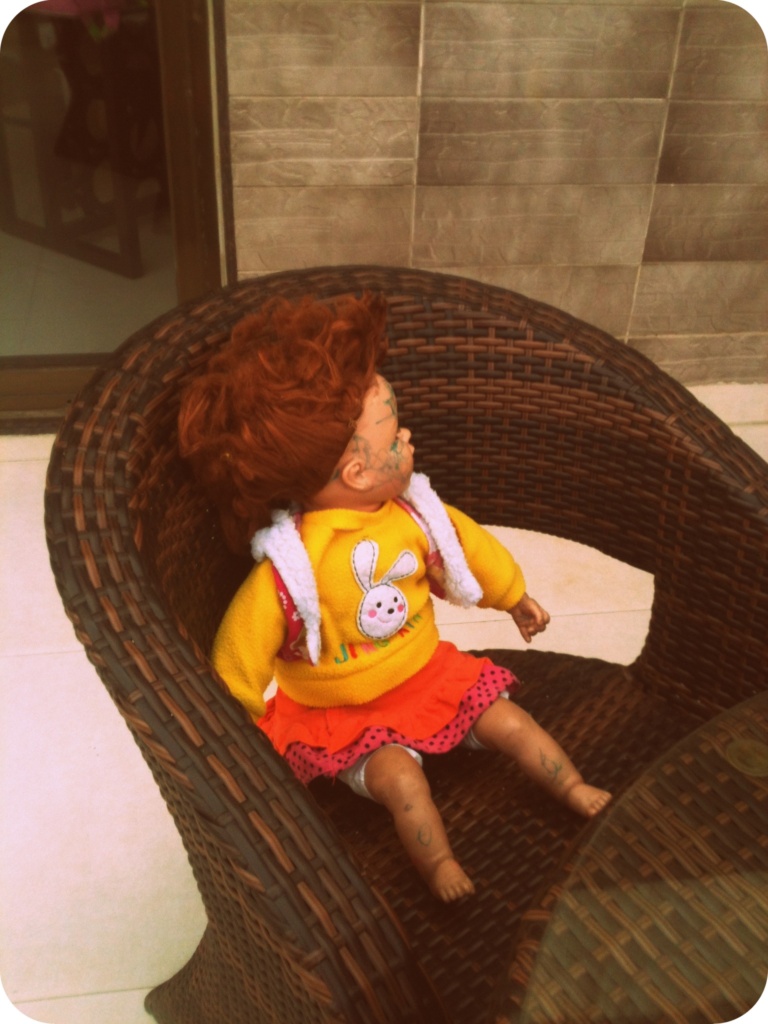 It really stressed me out to see Tiara playing with the same doll. Soney pe Suhaaga was that neither my sister or her husband found it scary as they had never watched conjuring or any other horror movie.
You might ask me that why didn't I tell my sister about the truth about the doll that it looks just like Annabelle. It was because I was sure that if I tell her, she would have asked me to throw the doll out in the dustbin. And baba re baba, yeh to na ho paana tha! Don't laugh yaar, have you forgotten what happened to the girls who had thrown the doll out in the movie. It had come back to the house to haunt and terrify them and I didn't want the doll to follow me back from Mumbai to Chandigarh. So I kept my mouth shut about the doll and stopped even looking at it.
Doll se katti kar di, no hi-hello, sidda ignore 😀
From then on, whenever I had to go to the washroom in the middle of the night, I used to pray ki 'kaheen doll na dikh j'. I cannot put my feelings into words, the entire experience was that creepy for me. Here's another spooky picture of the doll. Just like that. After all, main kalla kyun darun bhai!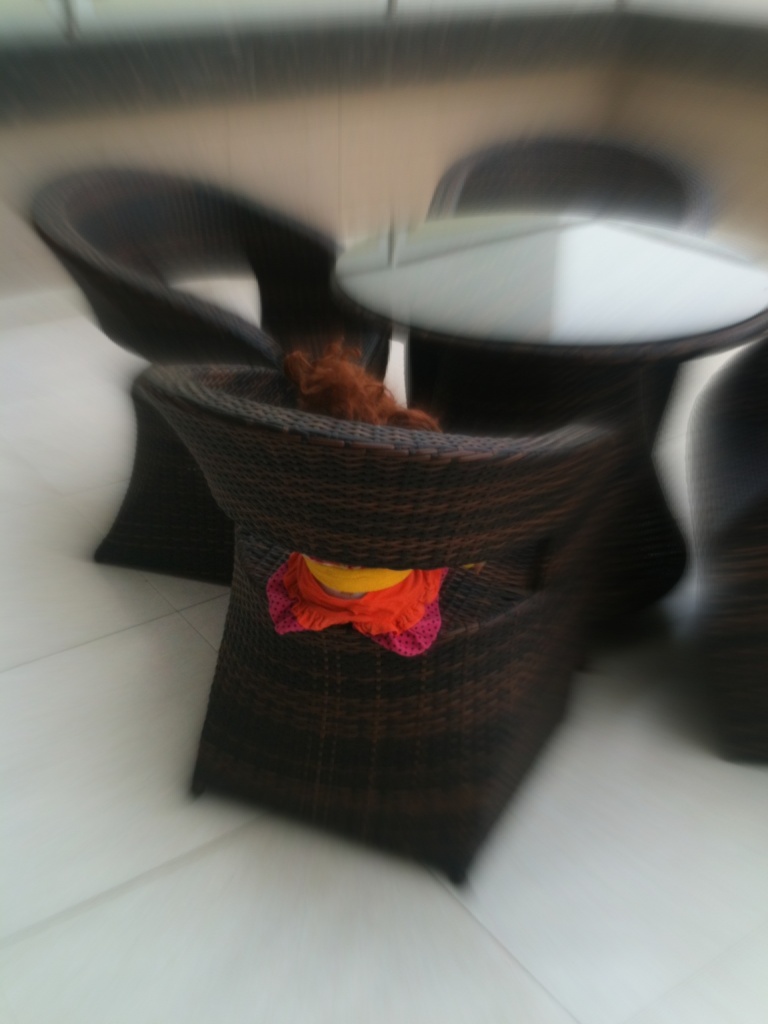 Have you seen The Conjuring? How did you find it? Do share your vishesh thoughts! Would love to know what you guys think!
Cheers and Jai Mata Di!
Shah Ji | Aseem Shah Panchkula